Sail a sailing boat with skipper
Turkey, the Greek Cyclades and Dodecanese, the Aegaean and Mediterranean

If you are more interested in "bareboat-charters" and other sailing-areas? Click here, please!
---
Crewed sailing-charter berth booking Turkey - Greece
Welcome to Baystroller´s holidaysailing SY Flexen Hex´n / eastern mediterranean seas turkish coast greek islands
Relaxed sailing under the tanning sun and calm breezes for a marvellous holiday...
"Sailing" plus "Holidays"

Skipper Hans
"Holidaysailing" with an emphasis on "holiday"
---
What to expect:
If you want to discover the pleasure and enjoyment of a sailing holiday, and if you want to learn about sailing, it´s pleasures and skills plusa share our "Sailing Holiday Philosophy": welcome on board!

For me, sailing means enjoying the silence that only a sailboat can offer:
the gentle hush of the waves, with white sails blowing in the wind and the beauty and seclusion of the bay you have chosen, where you may enjoy crystal-clear waters as long as you like, until we decide to head for the next bay or island nearby...
What NOT to expect:
Action, action, action, while continuously and hectically aiming toward our next, next, next destination... no,thank you!
I try to keep our sailing trips on SY Flexen Hex´n relaxed
We avoid northwesterly courses trough the Aegean sea in Summer, e.g. we don´t sail (fight...) from Mykonos to Athens.
If you are looking for such a sportive trip, I can try to find a crew for you, or one that you can join.
Otherwise you can charter a boat inclusive "sportive" positioned skipper yourself from our databased yachtcharter catalogue
This tranquility certainly doesn't keep us from sailing! We just try to plan itinaries and courses that are "stomach-friendly"...
Every season has it´s sailing area, and we try to follow the most pleasant weather conditions
In springtime and early autumn the weather is lovely in the south (Kekova, Kas, Kalkan to Kemer and Antalya) , but it´s too hot in the south of Marmaris on the turkish coast from mid-July and August to mid-September!
Furthermore, that is holiday season in Turkey and all over Europe - so the Turkish bays are very crowded then! We try to avoid the crowds in August by sailing to the greek islands in the Aegean sea.
In 2004 we visited Crete, and it was a great pleasure to enjoy the hospitalyty and friendlyness of the cretan people - even, if the island has a very good touristical infrastructure, the nautical infrastructure is not developed yet, and so it is a great experience to sail there. In 2007, the first 2 weeks sailing in Mai will lead us to Crete again, then around the island and in June, the way back along Peleponnese peninsula bays, via central cyclades back to Kos, from where we probably will sail along the turkish coast until middle of July. We do not have a fixed schedule, as we are no "bus" travelling the same rout again and again, but greek ferries and turkish airports are easy to reach, so it´s never a problem to arrange returns on time.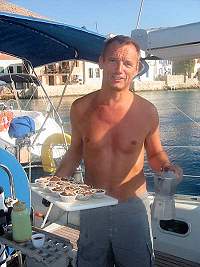 Many sailors avoid the central Aegean seas around Naxos, Mykonos, Paros and Santorini in the Summer season because of the "horrifiying" Meltemi wind which can be very (and I mean very!) strong. On the wrong course (S>>N/NW), it´s a dangerous "fight" upwind, but we have been sailing there in August for years without any problems!
If we go to the aegaean cycladic islands, we sail from NE to SW and back from SE to NE, which allows us fast sailing without big troubles even at stronger winds!
(But no "Mykonos-Athens", as you already know ;-) )
Ss you see, we try to get the best out of all the fantastic opportunities the Turkish coastline and the greek aegaean sea can offer from April till November, and in the overcrowded and hot high-sum season we head for the Cycladic islands, which are always a bit windy and not so very full of people!
If we have enticed you now....read more about your skipper, the boat, the trips and itinaries! ....click here>>>
Or see more pictures of the boat>>>?
all pictures were taken in 2004-2006, but no significant difference to today ;-)
---